Photo Gallery
Because I am a hardcore food lover it is impossible for me to not post pictures of food we've encountered on our European travels - the good and the bad! Bon appetit!
I will start with the good stuff....
YUM!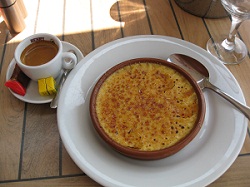 One of the most heavenly pairings on earth - crème brûlée and espresso. Nothing fancy to look at, but 100% perfection. The French really, really know what they're doing.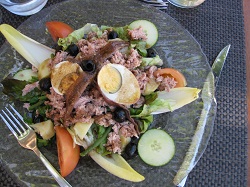 Salade Nicoise... very typical salad in southern France. Anchovies usually get a bad rap but they really enhance the salad when eaten with an open mind! I ate this a lot.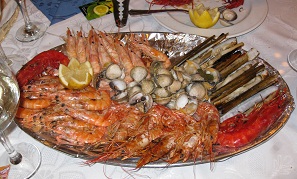 A giant platter of seafood in Madrid, Spain. Served with a side of creamed seafood just in case you didn't have enough already. I had never encountered razor clams before this and, although I found them to be interesting, I don't think I'll be ordering them again anytime soon.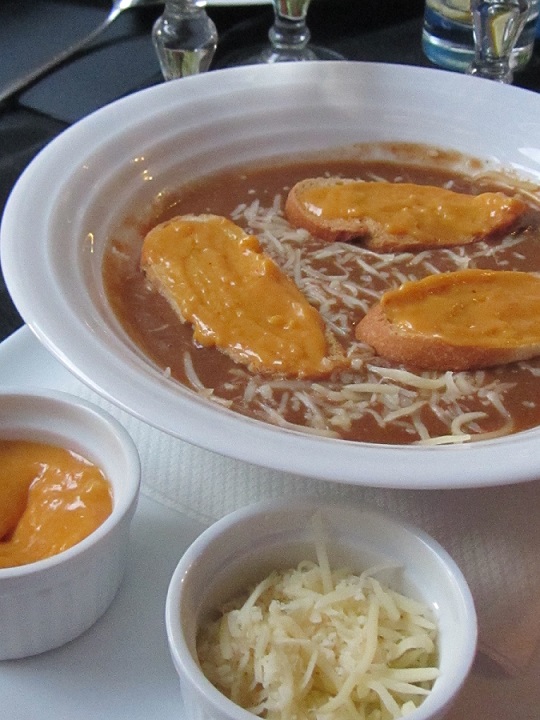 Fish Soup - this is ubiquitous across Southern France and I sort of love it and hate it at the same time. I would never, ever order this at home... but there is something about sitting on a balcony over-looking the Mediterranean and sipping a crisp glass of rosé wine that makes this soup super enjoyable. It's pureed (and I have no idea, nor want to know, what exactly is in it) and comes with little toasted baguette slices that you slather with some sort of tastly aioli. Again, I have no idea what makes it that funky orange color but it's delicious.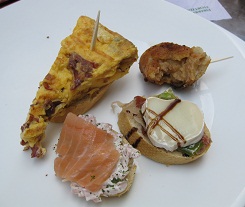 Very typical tapas in San Sebastian, Spain. You can spend an entire day sitting around nibbling on these varied morsels of perfection.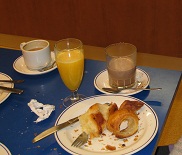 The majority of Europeans enjoy this as their morning sustenance. This particular breakfast was in Spain but it looks like this pretty much everywhere; coffee or hot chocolate, freshly squeezed juice, and a croissant. Once you've had one of these croissants you'll never eat one from Safeway again!
Of course not everything is perfect and we are sometimes surprised.
NOT SO YUM...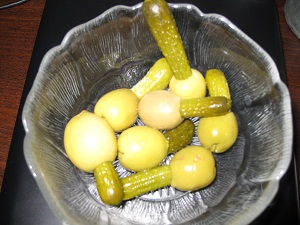 These strange appetizers were purchased in a regular grocery store. I couldn't resist them - what a crazy pairing of pickles and olives! Unfortunately the taste wasn't as fun as the appearance... I was expecting a crisp dill pickle but everything was the same texture and it all tasted a bit strange. Makes you wonder who came up with the idea...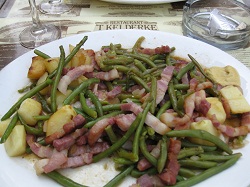 I still cringe when I see this picture. It was a very hot day in Brussels, Belgium and I thought I'd order a salad for lunch. It was described as 'a salad with green beans and bacon' - and I assumed it would also include lettuce and other things. I ate the green beans but decided to leave behind the giant chunks of semi-raw bacon and hard potatoes. Not the best choice on the menu that day.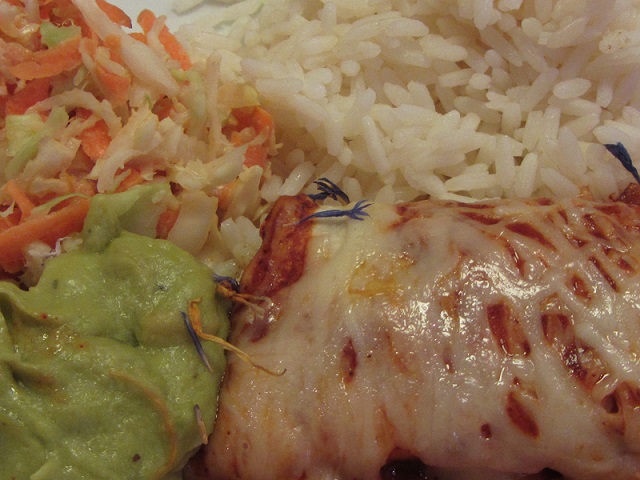 Well, I wouldn't recommend ordering Mexican food in a French restaurant. I did this as an experiment because it sounded so delicious on the menu! Disclaimer - this was at the end of 3 weeks in France and I admittedly had a hankering for a burrito. Although it doesn't look too bad, the guacamole had zero flavor and had the consistency of whipped cream. (Weird!) There wasn't any kick or spice to my burrito, although the chicken was cooked nicely. I think what threw the whole thing off was the sprinkling of lavender flowers on the finished dish... you can order Mexican in France, but you can't take the French out of Mexican.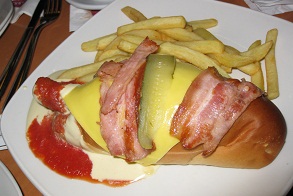 Another bad decision on my part. In Madrid we had lunch in a restaurant named "Nebraska". We thought it was a strange name for a restaurant but perhaps in Spain Nebraska is highly regarded? Their highly touted special was the "perrito Nebraska especial" so I thought, 'why not'? Well, this is why not. Cold, limp fries next to a really bad hot dog baked into a bun squirted with very sweet ketchup and some kind of cross between mayo and plastic cheese. Please don't order this.